JASPER MAN ARRESTED FOR RAPE, BURGLARY, FLEEING AND WEAPONS
02/25/2016
On February 23rd, 2016, Newton County deputies and an Arkansas State Police Investigator assigned to the Crimes Against Children Division, went to a residence north of Jasper to try and speak to a suspect in a recent sexual assault. After several attempts to contact the suspect, some of the law enforcement officers left the area, but one remained close by.
Shortly afterward, Christopher Dwight Day, aged 33 of Jasper, left the residence and began running toward a neighboring property. The deputy on scene attempted to contact the suspect, but he began running faster and refused to stop for the deputy.
The deputy chased Day across the county road and to a neighbor's house where no one was home. The deputy apprehended Day at the front door of the neighboring residence where it was discovered that Day was carrying a handgun and a large, fixed-blade knife. Day was taken into custody for Fleeing on Foot, Carrying a Weapon (firearm) and Carrying a Weapon (knife.)
Day was transported to the Newton County Sheriff's Office where he was additionally charged with 2 counts of Rape and one count of Residential Burglary.
One count of Rape was from a recent incident involving a minor that was living in the same residence as Day. The other count of Rape and the Residential Burglary stemmed from an incident in 2012 in which Day allegedly illegally entered into a residence and raped a member of his extended family.
Day appeared before a Judge and was given a bond of $100,000.00 and was ordered to wear a GPS enabled ankle monitor until court, should he make bail. Day is currently being held in the Newton County Jail.
These investigations and possibly more are ongoing. Anyone with any additional information is encouraged to contact the Newton County Sheriff's Office at (870) 446-5124 or via the Sheriff's Office website www.newtoncountysheriff.org.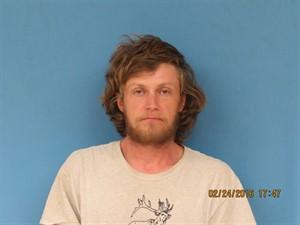 Christopher Day