DOMESTIC DISTURBANCE, GUNFIRE AND SHORT MANHUNT ENDS IN ARREST
05/18/2016
On Saturday, May 14th, the Newton County Sheriff's Office received a call about a family disturbance that involved a shotgun and a shot being fired. The disturbance was at a residence off Hwy 74 East between Japer and Piercetown.
Deputies, assisted by the Arkansas Game and Fish Commission responded to the area. When authorities arrived, they learned that two victims had heard a disturbance between the suspect, Christopher Dwight Day, and his elderly grandfather. When the two victims went to the house to investigate, Day allegedly threatened to kill both of them then retrieved a 12 gauge shotgun and fired a round toward them. Day then left the area with a relative in a red pickup truck. Both of the victims were closely related to Day.
Day had been arrested earlier this year for two rapes and was out on bond. One of the conditions of the bond was that Day wear a GPS ankle monitor. The monitoring company was contacted and was able to determine that Day had cut the monitor off prior to fleeing into the woods.
Newton County Sheriff's Office, the Arkansas Game and Fish Commission, Jasper Police Department and Rangers from the National Park service began a manhunt in the area. Approximately three hours later, Day was located on the back porch of a residence in the area. He was taken into custody without further incident.
Day was charged with two counts of Aggravated Assault on Family or Household Member, two counts of First Degree Terroristic Threatening, Absconding and First Degree Criminal Mischief, all felonies.
At a later hearing, Day's bond was set at $100,000.00 cash only and his bond from the earlier Rape charges was revoked. Day remains in the custody of the Newton County Jail.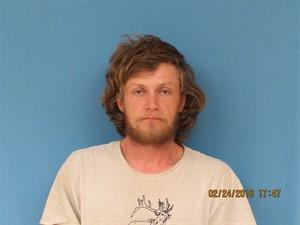 Christopher Day